Can we resize partition in Windows 2003 with Disk Management
Are you looking for solutions to manage your server partitions like extending boot partition, shrinking large partition with too large free space, moving existing partition but do not want to lose a tiny file? If you want to extend server 2003 partition with unallocated space on the drive with diskpart command, you can follow the article: How to use diskpart command to extend server partitions.
It is awkward and happened to many server administrators that the server system partition is running out of space and there are quite a lot of free spaces from other drives. What they really want is to shrink the free space from other drives and redistribute the free space to boot drive without system reinstall or any data loss. We know that Disk Management, the Windows built-in partition utility only offer basic partition management functions like converting basic disk to dynamic disk, deleting partition, setting active partitions etc. Then a third party server disk partitioning software might be helpful.
Recommended tutorial: resize partition with Partition Wizard Server
Definition of Disk Management
When searching the definition for Disk Management, most wiki offers the sentence describe it as an umbrella term for a variety of functions for initializing a hard disk, maintaining its health and managing its organization is called disk management. Disk Management is a snap-in that's part of the Microsoft Management Console supplied with Windows XP.
How to access Disk Management
There are a few different ways to access Disk Management. I'll list three different methods so choose whichever is more convenient.
Method 1 - Start > Control Panel > Performance and Maintenance > Administrative Tools. Double click Computer Management and then click Disk Management in the left hand column.
Method 2 - By default, Administrative Tools is not shown on the Start Menu but if you have modified the Start Menu (by right clicking the Start button and selecting Properties > Customize) so it is shown then just select Start > Administrative Tools > Computer Management and then click Disk Management in the left hand column.
Method 3 - Click Start > Run and type diskmgmt.msc in the Open: line and click OK. The Disk Management snap-in will open.
The main functions of Disk Management in Windows Server 2003
As we talked about early that Disk Management only offers some basic disk partition management functions. And these functions are really not what the server users often in need. And mostly these functions can also be done with diskpart command.
Create partitions. If you have a new drive with operating system installed which only occupies a small amount of space with the rest unallocated, then you can access Disk Management, and right click the unallocated space, it will show you the wizard to create partitions.
Notes for creating partitions:
When creating partitions, Disk Management will offer you chance to create primary partition or extended partition. A primary partition is a volume you create using free space on a basic disk. Windows and other operating systems can start from a primary partition. You can create up to four primary partitions or three primary partitions and an extended partition. An extended partition is a portion of a Master Boot Record (MBR) basic disk that can contain logical drives. Use an extended partition if you want to have more than four volumes on your MBR basic disk.
When creating partitions, usually it automatically assign the whole space for the partition. If you do not just create this partition, you should type the exact size of the partition you want to create. And after defining the size of the partition, you can choose to assign a drive letter for the partition. And then you can choose the file system to be NTFS or FAT, allocation unit size. Please do click "Perform a quick format" or it may take you a really long time to wait for the partition to be created.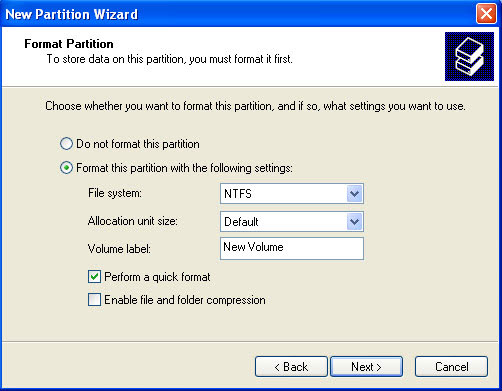 Delete Partitions
Go to Disk Management, right click any partition what you do not want to keep, and it will offer you the option to delete it.
Format Partitions and Volumes
If your hard drive is attacked by virus and is seriously damaged, I am afraid formatting the partition will help you to get rid of the virus. Note: If you did not write new files to over write the old files, your old files can still be recovered by some unformat software.
More functions of Disk Management
Mark partitions as active.
Assign or modify drive letters for hard disk volumes, removable disk drives, and CD-ROM drives.
Obtain a quick visual overview of the properties of all disks and volumes in the system.
Create mounted drives on systems using the NTFS file system.
Convert basic disks to dynamic disks.
Convert dynamic to basic disks, although this is a destructive operation.
On dynamic disks, create a number of specialty volumes including spanned, striped, mirrored, and RAID-5 volumes.
Resize Server Partition without Data Loss
As you could see the functions of Disk Management, all basic disk management functions. When resizing a server partition no matter to extend or shrink or merge partitions, only a third party program can help.
Tutorial: How to resize server partition
Related articles