Partition magic raid 5
Are you looking for some maigic partition software that could work with RAID5? Here is a tutorial for resizing raid 5 partitions. You may use it on Windows server 2008, 2003, 2000 and it also works with Windows PC (Windows 7, Windows Vista, Windows XP, Windows 2000).
Notice - Partition Magic, the old partition software does not work with Vista, Windows 7, nor Windows Server OS. We recommend freeware - Partition Wizard Home to be the option.
Resizing RAID partitions like raid5 on Windows Server partition, we will show you a tutorial to resize partition raid5 without data loss. You don't have to worry about the data loss or copying your files. It is totally data safe and it recognize raid5 partition as a ordinary hard disk partition.
Resize raid partition with magic partition software
The program that we tested worked on RAID arrays like raid5 is Partition Wizard Server. Partition Wizard Server is a magic partition software that works with Windows server OS and raid partitions. It is able to resize partition without data loss, create partition, shrink partition, format partition, copy partition, recover partition, extend partitions including the boot partition without data loss. You won't lose a byte since the advanced partitioning technology. Inherited many advanced features from Partition Magic, this program is a ideal program for disk management. Here is the tutorial that shows details steps to resize partition.
Run the pwsed-setup.exe to install. It won't ask you to reboot the server after installation.
After installation, run the icon Partition Wizard Server Edition 4.0 DEMO to start.

When it runs, you can see the start up screen.
Now we want to shrink the data partition to be 100GB and make 33GB unallocated space. The unallocated space will be redistributed to the boot partition.
Right click G drive to shrink the data partition to be 100GB. When you right clicking the G drive, it will show options including "Move/Resize", which is what we need to shrink the data partition to make 33GB unallocated space.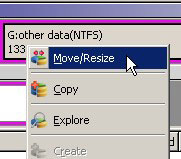 And it will pop up a box where you can drag the partition edge to make unallocated space.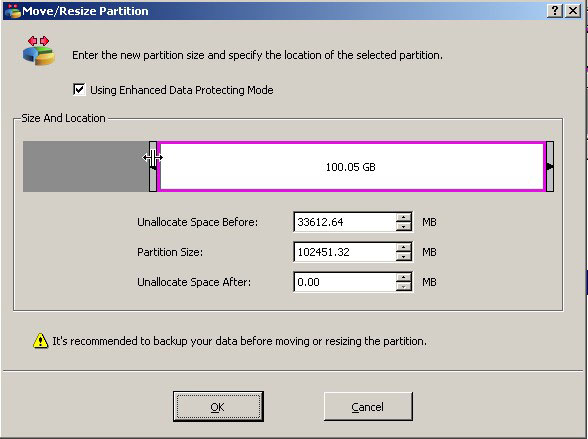 Then right click partition F and reach the option "Move/Resize", this time, we will move the whole partition to the right part of the unallocated space.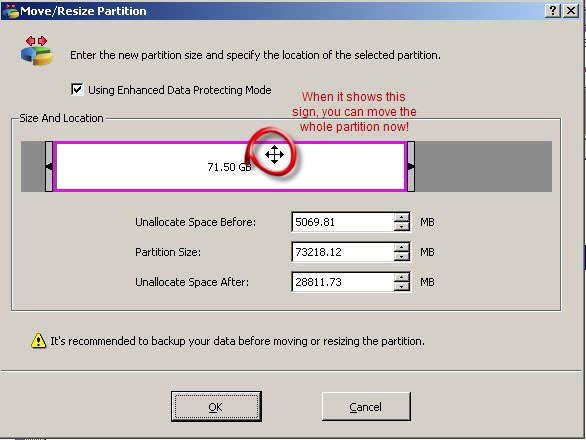 Then it is the same way to move partition E. And when the unallocated space is moved right to the c partition, then you can right click C to "Move/Resize" option to extend c drive with the unallocated space.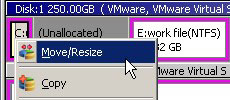 And after we claimed the unallocated space, you can see the present c drive is 43GB.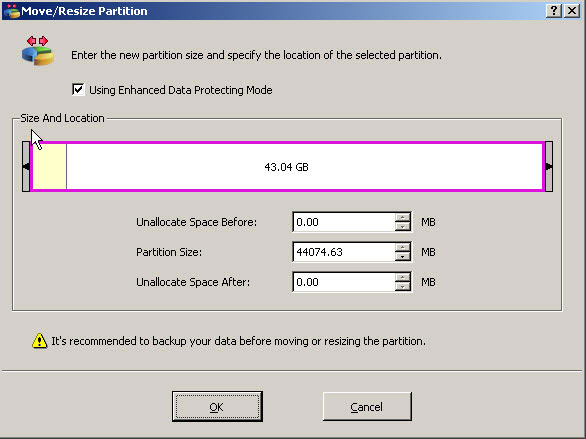 These are the steps to extend server c drive with Partition Wizard Server. Under the left part of the application, we can see the pending four operations listed.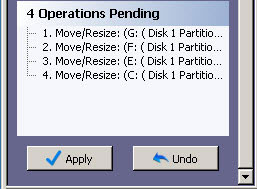 Then to apply the changes, you need a full version to make the changes applied.

Free Download Trial | Read server partition software review
Can we use Partition Magic on RAID5?
Partition Magic, the old partition software produced firstly by Powerquest and then bought by Symantec, is not the advanced choice for resizing partitions on RAID5. It was not available on Symantec store any more. If you did have a copy of PartitionMagic, then be careful when resizing partitions since it has a lot of compatible issues. Backup files before resizing partitions is highly recommended.
Some users that can find partition solution by this article
Here is a bundle of RAID users that this raid partition software solution helps:
Can I move RAID5 partition to make my OS drive larger but no need to reinstall OS?
Dell Poweredge 4300 with RAID 5 config. The C:\ drive has little space left, can I find something that can successfully re-size the partition without losing data?
Raid 5 and Partition Magic.(Asked by Bransby-IT in Computer Servers) Question: "Windows Server Small Business 2003 3 Disk RAID 5. C:\ 10GB E:\ 110GB Ok I need to increase the space of the drive C:\. In the past I have just used Partition Magic but dont think I have ever used in on a RAID Array. Is it just as simple as it has been for me in the past?"
Hello everyone, I have a SBS2003 standard server with 3 SCSI disks in RAID5. I need to install SP1 and SP2 but i'm short on disk space on C. I already have the Excsrvr directory etc. on an other partition. There's enough space on the other partitions so i'm thinking about resizing the partitions. Take some space from partition F and add it to partition C. My plan is to make a good image of all the partitions with Symantec LiveState Recovery Advanced server 3.x to an external USB disk. Then resize the partitions and put the images back. My questions: Will this work this way and are there any problems i might encounter. Did anyone do it this way and what are your experiences? To resize the partitions i thought about doing a partial SBS2003 setup to the point where you can load your RAID drivers, remove the existing partitions and make new partitions. Will this work? Am i overlooking something? Or i should use some 3-rd party software to resize my raid5 partitions.
Solution: Partition Magic does not support Windows Server Small Business 2003. Admins need a server partition software which works on RAID 5. As far as we know, Partition Wizard Server supports Windows Small Business Server 2003 and also works on RAID 5. The last user got a SBS2003 standard server which is running short of c partition. He wanted to take space from partition F and add it to c drive.
Related products
Related articles