Repartition Windows Server 2003 with Partition Wizard
Repartitioning Windows Server Operating System is a though job to do since the server serves the whole working place. With Windows 2003 dominates the present server world, we offer the safest solution to let you resize, move, extend your 2003 partitions without data.
Tutorial: resize server 2003 partition
Partition Wizard Server makes it easier for repartitioning since there is no need to reinstall the system or make huge data transfer when you were planning to extend partition or shrink partitions. With Partition Wizard Server, you can extend or shrink any size any partition you like and it is data and system untouched.
It supports: Windows 2000 Server SP4; Windows 2000 Advanced Server SP4; Windows Server 2003 Standard Edition; Windows Server 2003 Enterprise Edition; Windows Server 2003 x64 Standard Edition; and Windows Server 2003 x64 Enterprise Edition; Windows Server 2008 (32/64 bit). And it also works on server and non-server systems including: Windows 2000/2003/2008; Windows XP; and Windows Vista 32-bit and 64-bit versions. It makes the perfect choice for computer geeks on servers that were installed with non-server systems.
Firstly, download a free trial of Partition Wizard Server. (We tested this program to be very useful in disk management- resize, move, shrink, extend, enlarge...)
Run the pwsed-setup.exe to install. It won't ask you to reboot the server after installation.
After installation, run the icon Partition Wizard Server Edition 4.0 DEMO to start.

When it runs, you can see the start up screen.
Now we want to shrink the data partition to be 100GB and make 33GB unallocated space. The unallocated space will be redistributed to the boot partition.
Right click G drive to shrink the data partition to be 100GB. When you right clicking the G drive, it will show options including "Move/Resize", which is what we need to shrink the data partition to make 33GB unallocated space.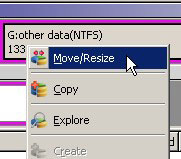 And it will pop up a box where you can drag the partition edge to make unallocated space.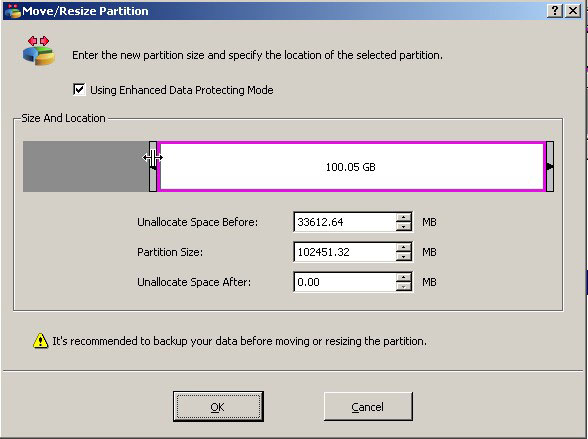 Then right click partition F and reach the option "Move/Resize", this time, we will move the whole partition to the right part of the unallocated space.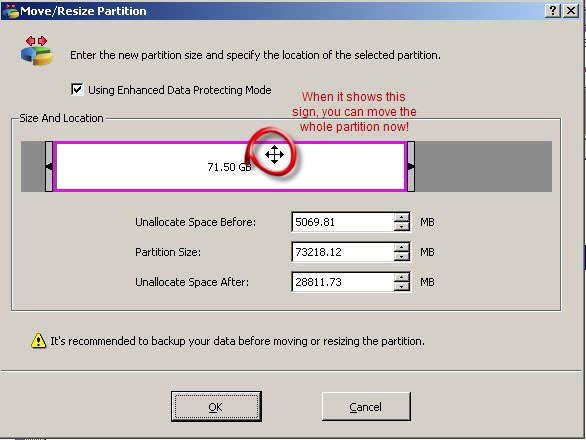 Then it is the same way to move partition E. And when the unallocated space is moved right to the c partition, then you can right click C to "Move/Resize" option to extend c drive with the unallocated space.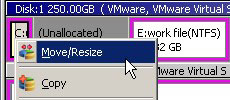 And after we claimed the unallocated space, you can see the present c drive is 43GB.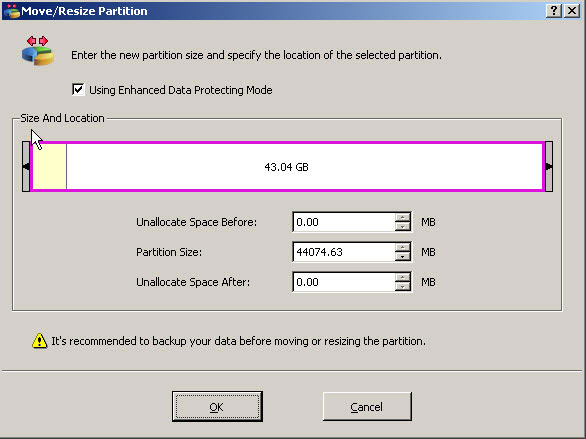 These are the steps to extend server c drive with Partition Wizard Server. Under the left part of the application, we can see the pending four operations listed.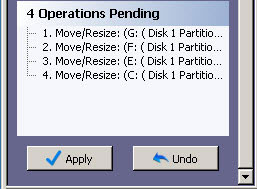 Then to apply the changes, you need a full version to make the changes applied.

Free Download Trial | Read server partition software review
Brief Introduction to Resize Partition 2003 with Partition Wizard Server
As we know Windows Server 2003 Operating Systems inherited the best of Windows 2000 Server technology and make it easier to deploy, manage, and use. Microsoft has improved and extended the Windows Server Operating Systems to incorporate the benefits of Microsoft .NET for connecting information, people, systems, and devices. Now, Windows 2003 is so popular with server users because of its security, reliability, availability, and scalability.
For resizing partitions on server 2003 with Partition Wizard, you can do the partitioning just by several steps. It is easy and foolproof.
Firstly select the hard disk and a partition you want to resize; then right click the partition and go to "Resize/Move" where there will be a box to let you handle the size of the partition. Extending partitions needs unallocated space. To extend a partition, you need to produce unallocated space by shrinking some partition where there is a lot of free space. Here is a detailed tutorial we produced for server administrators to resize partition with Partition Wizard Server.

free download Partition Wizard Server | read partition software review
Related products
Related articles