How to shrink C partition to create partition
Many people are wondering is there any safe way to shrink the present system partition c and create another partition? It is common that many users just have one partition on their drive with system installed. Or you may want to shrink other partition to extend c.
It is very dangerous to just have the whole disk as a partition since virus often prefers to attack the system information like system32. Once the folder is affected then all the data on the drive would be inaccessible if system fails to boot.
Freeware tutorial to shrink c partition without system reinstallation
With a partition software, it is safe to shrink any partition including the boot partition and keep data and system intact. Here we would like to show the steps shrinking c partition and then create a new partition.
Partition Wizard Home Edition, a free program that can be used to resize partition (mostly extend partition, shrink partition, move partition), and keep your system untouched. You don't have to reload OS to change the size of your system partition. Here we made an example to shrink C drive when c is with too much space (some users only have one partition c: of its whole disk even when it is 500GB, 1TB etc.), and then you can redistribute the free space produced from C for any further use, eg: create another new partition or more partitions for better disk and data arranagement.
See online tutorial to shrink partition with freeware
Tutorial that shows shrink partition with Acronis DD
Here we also show you another tool called Acronis Disk Director Suite which works on PC but needs your pay of $49.00.
Step one, get a copy of Acronis Disk Director Suite
Before using Acronis Disk Director Suite, let's see the whole disk c partition in Disk Management

Step two, install Acronis Disk Director Suite.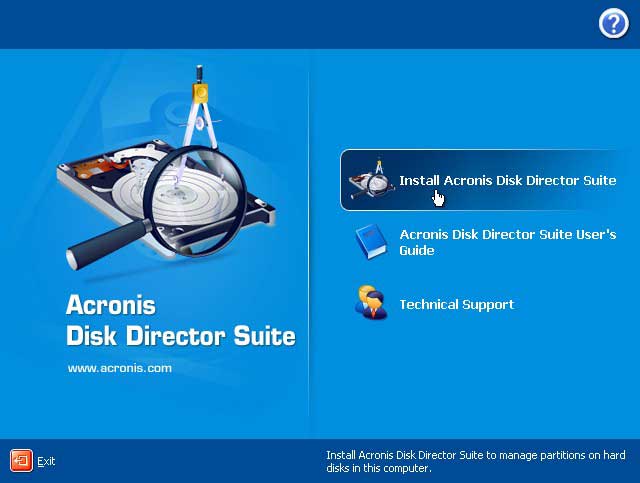 Step three, start Acronis Disk Director Suite from the icon on the desktop or you can also open it by startprogramsAcronisAcronis Disk Director. Choose the Manual Mode when it first comes to you. It is for advanced users and we are going to show you how to shrink partition with Manual Mode.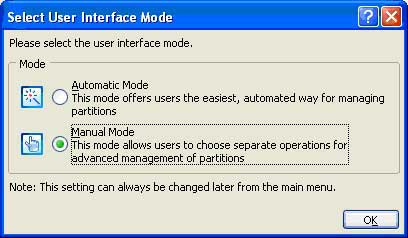 Step Four, right click c drive and go to "Resize"

Step Five, shrink c drive by dragging the end of the c partition to the left to make unallocated space and then click OK. Tips: If you want to create a partition on the right part of C partition, you should start dragging the c partition on the right side to shrink it to the left. If you want to create a partition later in front of c partition, you should begin with the left side of c drive.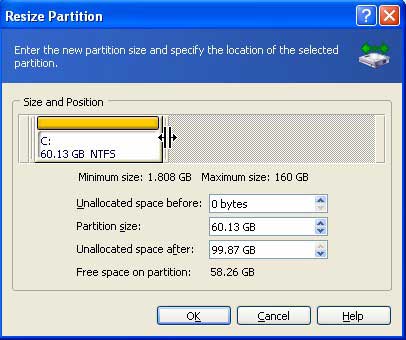 Step Six, right click the unallocated space to create partition

Step Seven, define the new partition. You can choose what kind of file system to create like NTFS, FAT32, FAT16, EXT2/3, Linux Swap, Reiser FS. And you also can choose to create a primary partition or logical partition to create. (if you don't know what kind of file system or primary or logical partition to choose, just leave it as automatically selected.)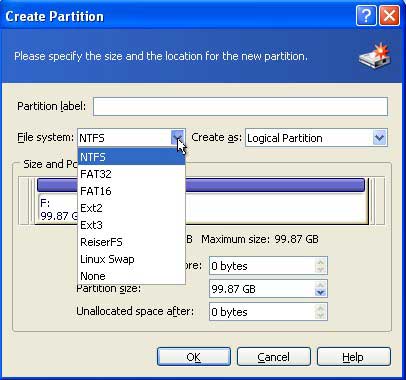 Here we would create a 100GB F partition with all the unallocated space. If you want to create more than one partitions, you can define the size by dragging the Size and Position.
Step Eight, Commit all operations by clicking the commit icon on the toolbar.

Step Nine, confirm pending operations.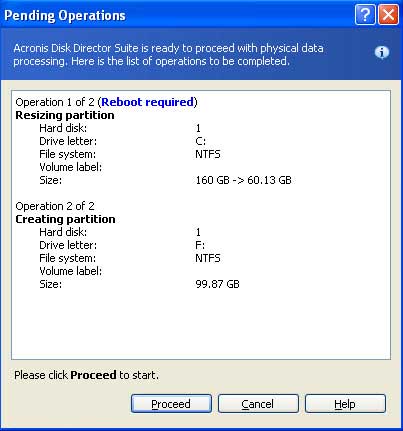 A rebooting is required to carry all the operations. Please confirm to reboot the computer. Acronis Disk Director is fast in finishing the process. Even though, we still have to remind you not to close the process while it is processing or you might suffer great loss. Now we can check the created partition in Disk Management.

Works on Windows 2000/XP/VISTA, Acronis Disk Director Suite helps you manage your gigabytes of data fast and efficiently. Whether you need to upgrade your hard drive or dual boot your computer with different operating systems, the Disk Director is the tool to make any byte management task faster and easier than ever before.

download Acronis DD Suite
Related products
Related articles