Gparted - Gnome Partition Editor -Review and Download
Geeks advice: When shall you use Gparted and when better not
As Gparted only works with its file .iso type, that is to say you can only use it in bootable model. Our advice: Gparted is only for disk partitioning when you use it on bootable model. For Windows OS partition resizing, moving, copying etc, Gparted is not your right choice. We would like to recommend freeware Easus Partition Master Home Edition, and Partition Wizard Home Edition to do the tricks.
More about Gparted LiveCD
Brief Description:
Gparted is an open source partition software which works with an .iso file to provide DOS boot to manage partitions.
Features of Gparted
It is with the following features:
Create, delete partitions
Resize partitions like shrinking partitions, extending partitions
Enable and disable partition flags such as boot and hidden
Checking partitions
Copying partitions
Screenshot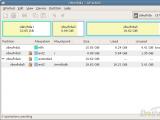 License: GPL Free
OS: Linux
Requirements: No special requirements
Publisher: Gparted
Homepage: http://gparted.sourceforge.net/
 GParted LiveCD Download
Free Download GParted LiveCD 0.3.4-7  
About Author of GParted LiveCD
Gparted is created by developer Bart Hakvoort. The program is hosted in Sourceforge where open source software was gathered. The website http://gparted.sourceforge.net/ is a subdomain of sourceforge for free hosting. Gparted is a freeware that makes no income from the software nor the website.
Related products
Related articles