Partion Magic to Resize Partition When there is no Partition Magic
Partition Magic (Partion Magic) has become history by Symantec discontinued the sale. Partion Magic was priced at $69 in Symantec store in the past. However due to no upgrading since the last version released in 2003, Partition Magic (Partion Magic) was reported bugs and not supported Windows Vista nor Windows 7 and sometimes reported data loss caused by this partitioning old man while resizing partitions. In Dec. 2009 Symantec discontinue Norton Partition Magic 8.0. You may find the news on
http://www.symantec.com/norton/theme.jsp?themeid=partition_magic&depthpath=0&header=0  
Below is a short screenshot of the page.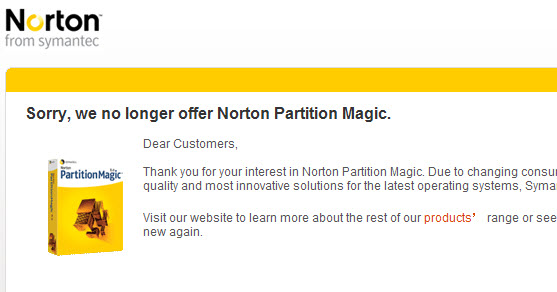 Partition Magic Alternatives
What program shall we use when there is no partition magic any longer? What is the current best partition software?
We did a review on the best partition software review for Windows desktop like XP/Vista, and also a server partition software review for you to choose the partition software which works like Partition (Partion) Magic with Windows Server 2000, Server 2003 (SBS included), Server 2008 (SP2 included).
To resize Partition in Windows XP/Vista/7, generally we would recommend freeware Partition Wizard Home Edition, Easus Partition Master Home Edition, and shareware Paragon Partition Manager, Acronis Disk Director Suite to replace Partion Magic.
To resize partition in Windows Server OS like 2000, 2003, 2008(all versions), we would like to recommend Partition Wizard Server Edition to do the trick.
About Partion Magic (Partition Magic)
Partion Magic is a partition software with the official name "Partition Magic" developed by Powerquest and then was acquired by Symantec Corp. Partion Magic is the frequent misspelling of PartitionMagic which works with Windows 2000 Professional and Windows XP to do resize partition, merge, split partition, etc.
PartitionMagic, while under PowerQuest, was updated regularly, adding new and useful features. Since Symantec purchased the application in 2003, there has not been a new release, and Symantec has stated that it has no plans on releasing a new version.
On December 8, 2009, the Symantec website states, "Sorry, we no longer offer Norton Partition Magic."
About Powerquest
PowerQuest was a software company that produced utility software. It was acquired by Symantec in 2003. PowerQuest's market focus was on management of computer data storage, especially file systems and disk partitions. Their products included PartitionMagic, ServerMagic, and Drive Image.
Related products
Related articles