Home
-->Geeksdo Wiki -->What is NTFS and its conversion
NTFS - What is NTFS, how to convert fat or raw to ntfs
Table of Contents
1. What is NTFS??
2. The Advantages of NTFS
3. Limitation of NTFS
4. How to Convert FAT FAT32 or RAW to NTFS
5. How to convert NTFS to FAT
What is NTFS?
NTFS, namely New Technology File System, is a standard file system used in Windows Vista, Windows XP, 2003, 2000, NT and Windows 7. NTFS was invented by Microsoft Corporation for Windows operating system to instead of FAT file system. NTFS has several technical improvements over FAT and HPFS such as NTFS can support metadata and make use of advanced data structures to improve its performance, reliability and disk space utilization. NTFS has five versions including v1.0 released in 1993, v1.1 released in 1994, v1.2 released in 1996, v3.0 and v3.1. NTFS enables users to encrypt files and folders to protect the sensitive data.
The Advantages of NTFS
1. NTFS supports all Windows 2000 operating system and Windows 2000 can format volumes up to 2TB with NTFS.
2. NTFS has a faster access speed that it minimizes the number of disk accesses required to find a file.
3. NTFS is a more reliable and secure file system, with which you can set share permissions that operate on shared folders in combination with file and folder permissions.
4. NTFS provides a more effective way to manage disk space.
5. NTFS features in its better performance in file compression.
6. NTFS allows users to set disk quotas to control the amount of disk space used by each user.
7. NTFS has improved performance on large volumes.
Limitation of NTFS
1. NTFS is not compatible with MS-DOS, Windows 95, and Windows 98 because it's only designed to be compatible with Windows 2000 and later versions of Windows.
2. You will lose some storage space when you format a drive with NTFS file system, because NTFS file system often requires an amount of "space overhead" to function.
3. Floppy disks cannot be formatted with the NTFS file system
4. There are some limitations on naming files when using NTFS file system.
How to Convert FAT to NTFS
NTFS and FAT respectively has their own advantages. Sometimes, users may need to convert FAT to NTFS. Usually users can convert FAT to NTFS easily. Below is the method:
1. If you use Windows 7, Windows 8 or Windows Vista, type cmd in the search bar. If you use Windows XP, click on Run and then execute cmd., type convert X (X stands for drive letter): /fs:ntfs and press Enter.
2. If it asks you to enter current volume label for drive, enter the name of this drive as it is displayed in the computer window and press Enter. 
3. You will get a message when the conversion to NTFS is finished.
The way mentioned above is the most common way to convert FAT to NTFS. You can also use some professional software to accomplish the conversion.
Tips before conversion: usually the data inside the drive won't lose during the conversion, but you had better to make a backup from the drive before conversion.
Raw Error NTFS partition/drive
RAW file system? Yes, when your NTFS partition has been damaged, the file system which should have been NTFS, now changed to RAW. At this time, You need to restore data from raw drive at first if there are important data inside but you just can't access the raw drive.
Recover files from raw drive which was NTFS at first
How to convert RAW drive to NTFS?
Format the drive from raw to NTFS and then you finish the conversion.
How to convert NTFS to FAT32 without formatting or data lossing
Keep your data untouched and no formatting when switching your NTFS partition to FAT32?
When you want to save files larger than 4GB like a movie or video clip, you may get the warning that you cannot save the file successfully. The reason is that FAT32 does not allow files larger than 4GB, if you want files more than this big, you need to change your partition, usb, card from FAT32 to NTFS.
Free way to convert NTFS to FAT32 - format and data lossing
You may do this with Windows System built tool - format. Just format the drive and you will be able to see the option to convert the drive to be NTFS. However you will definitely lose all your files.
No Format, No Data Loss to make NTFS be FAT32
You need to use a tool like this one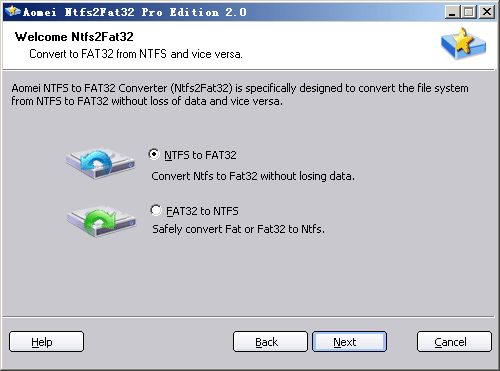 Free Download the NTFS TO FAT32 converter here
Resources Related with FAT32
The tips and software to guide you the right steps when you see raw error on a fat32 drive.
References on FAT32 and its problems and solutions
How to convert fat fat32 to ntfs