Recovering photos from memory card
First Thing comes First
When you realized you have lost photos from your memory card, DO STOP USING it immediately from saving or taking new photos with your memory card. Leave it untouched for the best chance of memory card recovery.
Memory Card Photo Recovery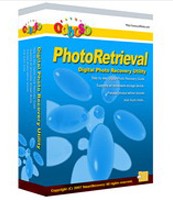 Did you ever experience the panic of losing pictures off your memory card in a digital camera or mobile phone? This may be caused by accidental deletion, data transfer error, or virus. Don't worry, we have the leading photo recovery software for you. You will not have to learn the technical details, because its easy-to-use feature allows you to recover your lost photos with only a few clicks. Memory Card Photo Recovery possesses the power to cope with various technical complexities related to photo recovery. It's fully competent to meet your needs. So it's absolutely risk-free.
Here are the listing of the attractive features of Memory Card Photo Recovery:
· Support all common types of memory cards that you can find. Such as SD (Security Digital), SDHC, Compact Flash, MMC, memory stick.
· Recover digital camera RAW formats as well as common images formats. Such as RAW formats used in Canon, Olympus, Fuji, Nikon, etc.
· Recover lost images from formatted memory cards.
· Even if your memory card is corrupted, crashed,or infected with some virus, the powerful software can rescue your photos.
· You can preview the photos before you decide to recover part or all of them.


MAC user? Please go to Data Recovery for MAC
Step by Step User's Guide: How to Recover Your Photos
Note: There are only four steps to get your lost photos back from your memory card
STEP 1: Preparation - Connect your memory card to your personal computer via a USB cable or a card reader. I suppose you already know how to use a card reader or USB cable for your device. It's more secure to use a card reader. Check "My Computer" on your desktop and you will see the external disk icon showing up. So that's it.

STEP 2: Download and install the above mentioned memory card photo recovery application. Start and click "Next" to continue. Then select the external drive (mentioned in STEP 1) and continue.



STEP 3: Select the intended file types by checking the boxes on the left. If you are aware of the type of images you want to recover, you can check the boxes accordingly. If not, we recommend you to choose all boxes including the "Common Picture" and "Camera RAW Image" category.

STEP 4: Continue and the program starts scanning. Wait time depends on your card volume but it will not take more than a few minutes. You will see the thumbnails of photos appear. Then click "Next" button to easily recover the deleted photos. IMPORTANT NOTICE: DO NOT SAVE THE RECOVERED PICS TO THE ORIGINAL MEMORY CARD.

Done! Congratulations!
Notice: You can freely use this program to perform scan and preview found photos, but you will need a registration key to activate the recovery option. It's recommended to check out the free version seeing if your lost pictures are retrievable before you buy it.

DOWNLOAD to recover photos NOW!