Partition Wizard Home - Freeware to manage partitions

If your PC is not brand new and you want to make it for better data storage (disk space optimization - resizing partitions but data and system untouched), disk partition restore, then Partition Wizard Home would be a great freeware for you to optimize your disk space especially when there were some sort of disk space problems like PC system drive becoming smaller and smaller, however there is large free space on other partitions. This can be caused due to increasing demands for your boot drive that was beyond your expectation. What's more, it is a cute tool that can fix your disk problems like partition lost, partition deleted by mistake. It can be your free toolkit to take care of your disk. It features a best free Windows disk partition tool along with other partition features eg. copy partition for data back, format partition, deleted partition, convert file system among FAT32 and NTFS...

Download Partition Wizard Home Free
For Windows Server users, Download Partition Wizard Server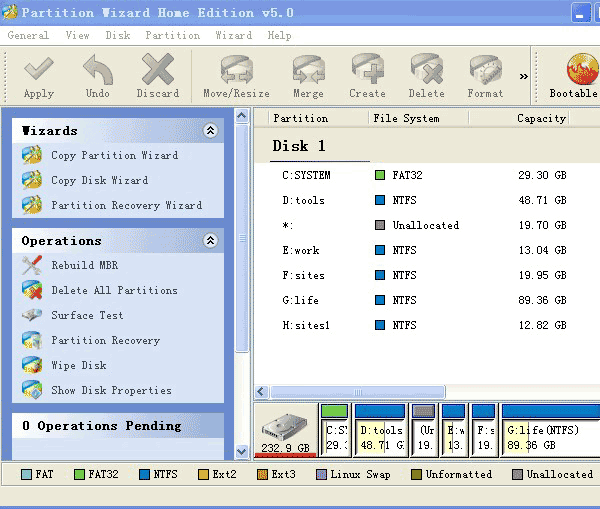 Partition Wizard Home Edition is an excellent disk partition software that can do the job of managing partitions (resize partition, move, shrink, expand/extend partitions with data and system untouched); partition recovery to restore lost partitions (restore partitions lost without a reason, partition became unallocated space, partition lost due to partition table damaged)
Here are some basic information of Partition Wizard Home Edition
Plantform : Windows PC all editions including 2000 Pro, XP, Vista Win7 (both 32bit and 64bit) Tips: if you want to resize any Windows server machine, you need to use Partition Wizard Server.
Resize/Move partition without data loss or system touched. See tutorial: how to resize/move partition with Partiton Wizard Home
Extend system partition easily and safely.
Create, delete and format partition with simple steps.
Copy partition and disk to transfer data with ease.
Support disk and partition size larger than 2 TB.
Support both MBR and GUID partition table (GPT) on 32/64 bits Operating System.
Keep your data safe even in case of power outages or hardware failure with its enhanced data protection module when using resize move copy shrink partitions. Tips: merge partitions is only available in Partition Wizard Server and Partition Wizard Professional Edition.
Convert file system among FAT and NTFS.
Wipe partition to permernently erase data that is beyond of the recovery ability of data recovery tools.
Surface test to check block errors on your disk.
Related tutorials:

Free Download Partition Wizard Home

Free Download Partition Wizard Server | Read server partition software review