Review of Partition Assistant Unlimited - cost efficient corp utility on disk space redistribution
The reasons that you might need Partition Assistant Unlimited are as follows:
You need to resize server partitions, especially when system partition is running out of space
There are serveral servers and PCs in your office (home or bussiness) that has been used for a while and need disk space re-arrangement
Looking for the most cost efficient disk space rearrangement tool
What does Partition Assistant Unlimited do?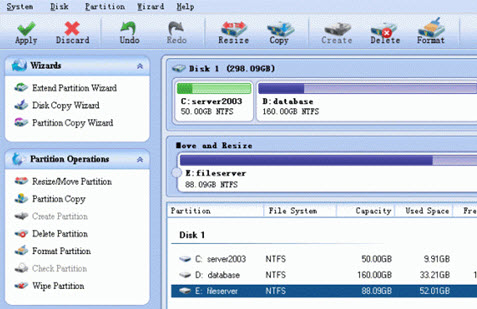 Partition Assistant Unlimited is a cool tool that allows disk space re-distribution even when there were data and system on the disk. Disk partition size re-arrangement was a tough job under Windows when it was in the stage of Windows XP and even today Windows Server plantforms. When you have system installed and disk partitioned, you may wonder how you could change the disk partition space as some partition is running out of space, or with the warning "Low disk space". Changing or re-arranging disk space would come to a first trouble with your computer or server. With data and system untouched, Partition Assistant Unlimited makes it possible for you to safely redistribute disk space. Make some drive larger or smaller would be its first and outstanding trick that it could perform.
Some attracktive features of Partition Assistant Unlimited
Resize/Move Partition - The starring feature of this program that allows disk space re-arrangement (It works on both Windows Server and PC plantforms with Windows Server 2000, Server 2003, Server 2008, SBS 2003, 2008 compatible and if you want to use this program on multiple hard disks, it is working with RAID drives. When your disks are built with RAID controllers, then this program is full compatible with any type of card built RAID drives.)
Extend Partition Wizard - A wizard that walks you through the partition extending and you won't get lost with this kind of fresh tool if you have never used any repartitioning tool. Pretty useful for non HD guru it is.
Unlimited Use - Partition Assistant Unlimited is licensed to use on unlimited PCs and servers and it is pretty cost efficient if you need to manage disk spaces on a workstation or home office.
Partition Assistant Unlimited is right solution
Partition Assistant Unlimited, priced US$ 269.00 offers unlimited use on servers and PCs for orgnizations, bussiness runner, webmasters, system admins, home office users with server machine at home... And here are some cases that Partition Assistant Unlimited would be highly recommended to use.

Windows SBS 2003 installed, Dell Server, c has 14GB and is about to full, but there are still 30GB on disk E. Can I rearrange the free space say 20GB to my c system drive? I don't want to do this by formatting my hard disk.

Dell PowerEdge 2600 with Perc 4/Di RAID card and Windows SBS 2003 installed, The original system drive was a set of 17GB drives in a RAID 1 array. Over the years, these drives have failed (individually) and been replaced by a set of 73GB drives, but the RAID array is still 17GB in size. Is there a safe procedure to resize the RAID 1 array to use the entire 73GB without destroying/corrupting the data on the array?

Need to resize a partition on PowerEdge 1800 and has raid 5 built 3 years ago, can any tool help me with system error ""dangerously low amount of disk space"?

How to move disk space from one to another on the same HDD that the drive stores media is running out of space. My RAID 5 config c:\ drive is with low disk space, how can I successfully re-size the c:\ drive on Dell production server?

Partition Assistant Unlimited is safe to resize disk spaces. Free Download it on your server and then install it. Run and then make free space from other drives and then click c drive to enlarge. It works with all server plantforms and all brands of server machines.
Free to try Partition Assistant Unlimited
Partition Assistant Unlimited can save you time on disk space redistribution ie resize safely without data or system damaged and is offering a competitive price available on the market.