Review of Partition Assistant - another useful disk partition management tool
License:
Shareware
Developer
Aomei Tech
Platform:

Partition Assistant Server - Windows Server 2000/2003/2008;

Partition Assistant Home - 2000/XP/Vista/ 7

Category:
Utilities - Disk Management - Partition Management
 
 

For Windows OS

Server Edition Original $129, Now only $99.65

 
 
* 100% Clean: No Viruses, No Spyware, No Adware.
* Receive registration code via email immediately after secure ordering!
* Free technical supports within 24 hours
* 30 days money back guarantee.
There are already many alternatives for Partition Magic, the old partition software. And today we will make a review of another one - Partition Assistant.
Partition Assistant claims itself working similar to Partition Magic on its official site. As we know Partition Magic was once excellent disk partition tool back to 2003, and we also introduced the reason why we should use some other disk partitioning tools instead of Partition Magic in our other articles. Here let's get a closer look at Partition Assistant to see whether it is an option of disk management tool.
What does Partition Assistant do?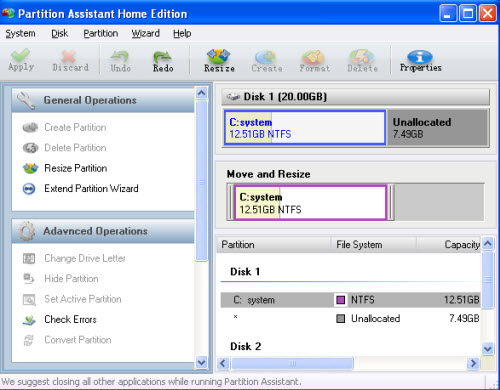 As it what it claims, Partition Assistant could work as Partition Magic. But to be specific, Partition Assistant could do some job of Partition Magic but not all of them. It can be a good option when you want to resize partitions (make your hard disk partitions smaller or larger without data loss). Sometimes people call it shrink partition ie making some partition smaller if you want to produce free space from large partition(ie you have 80GB partition with just 20GB used) for other use. It is very useful when your backup partition is getting smaller and smaller while there are still some free space on other partitions. Then Partition Assistant is to do the coordination job on partition space between disk partitions.
Main function of Partition Assistant - Resize partition to make old partition larger or smaller with data untouched.
It is pretty useful when your system partition got low disk space or has running out of space warning and you can use this program to resize other partitions and add space from other partition to your system partition. Some said this could make your system run faster but we are not sure about this. What does it do benefit is that you got a larger system partition and won't see the running out of space warning.
Some other attracktive features of Partition Assistant
Creat Partition - It is similar to the job that can be performed by Disk Management, provided by Microsoft Windows. Or you may simply use it to replace diskpart command to creat partition if you cannot remember some complicated command scentence.
Delete Partition - It is the same working as Disk managment or diskpart command. Warning if you want to use this "Delete Partition" - Back up your files if you have some on your partition before deletion. FILES WILL BE LOST IF YOU USE THIS.
Check Errors - You can use it to check disk track errors, the same job of what chkdsk works.
Other partition features like Convert Partitions or some features that shows gray in the above screenshots can be found in other editions which we will talk below.
Versions of Partition Assistant that works under different use
Partition Assistant veries from different Windows systems and license for different users. The tool is developed for system admins to better hard disk space arrangement and that's why admin priority is required to use this tool. There are free versions and paid versions available by the vendor. For example, Partition Assistant Home Edition is made for non commercial users (sometimes people call it home users) and Windows PC 32bit while you need to pay to register this program (Partition Assistant Professional Edition) if your PC is with a Windows 64bit system or you want to use some advanced features of Partition Assistant which are disabled in the Home Edition like "Extend Partition Wizard".
For Windows Server 2000, Server 2003, Server 2008 users, there are special made Partition Assistant Server Edition available and it needs around US$100.00 to get registered.
Partition Assistant Home Edition - Freeware that works under ALL Windows PC OS (up to Windows 7) but only 32bit system. (how can i make sure i am using 32 bit system or 64bit system?)
Download Partition Assistant freeware
Partition Assistant Professional Edition - US$29.00 It works with all Windows PC 32&64bit (From Windows 2000 Pro to Windows 7)
Partition Assistant Server Edition - US$129.00 for Windows Server users (Windows Server 2000 to 2008)
There are also unlimited edition and technician available for cooperate use.
The reason why you should try Partition Assistant
If you just need some disk space coordinator, then Partition Assistant will be enough for you to resize partition spaces. However if you need some disk partition recovery tool or partition backup, then you may try some other program like Partition Wizard or others.
Related tools